Business credit cards — simplify your business expenses
More and more businesses are discovering how business credit cards can help them sidestep cumbersome financial processes. Here's everything you need to know on the subject — including enhanced control of expenses, increased employee autonomy and how these cards work.
What is a business credit card?
A business credit card is a means of payment an employer makes available to their employees, allowing them the necessary financial freedom to make business-related purchases through an account of their own.
So, business expenses incurred with various suppliers are automatically paid and included on an expense statement so the corporation can reimburse the employee.
How do they work?
Business credit cards work much like regular credit cards, with the difference that companies can put some control measures in place.
A business credit card might be set up with the following controls in place:
an expense limit,
a set of days and times when the card is deactivated,
an authorised expense categories, and
an authorised businesses and suppliers.
Companies choosing this solution usually opt for deferred payment of any business expenses, to allow sufficient time to reimburse their employees for the expenses before payment is processed.
Nowadays, solutions like Jenji Platform save time previously spent processing and reimbursing expense claims. Our mobile and web app optimise expense management and allow a real-time overview of expenses by department, and give access to detailed reports.
How is a business credit card different to a corporate credit card ?
The term 'business credit card' is often incorrectly used for a corporate credit card. However — while a business credit card charges expenses to an employee's account prior to reimbursement by the company — with a corporate credit card, expenses are charged directly to the company account.
This difference brings some important considerations to light as regards corporate credit cards, in particular:
the company needs a greater level of trust towards its employees
there is an increased risk in terms of the level of expense employees could incur
expenses are consolidated onto a single company account, making it difficult to spot fraudulent purchases
they are more suitable for Small & Medium Enterprises (SME's), start-ups and freelancers.
On top of this, business credit cards have a minimum annual fee of €30 per card1, and corporate credit cards have an average annual fee of €802 per card.
Please note: Although there is no longer a reimbursement process, employees with a business credit card still need to provide their expense forms to the company accounts department.
Why use a business credit card?
The big advantage of using a business credit card is the simplification of business expenses through enhanced payment control alongside a culture of trust between the business and its employees.
For employees, this increased autonomy develops a sense of belonging, as well as streamlining the process of making a purchase. Making a wide variety of business-related purchases, which they may need to do as part of their professional role, becomes a lot simpler.
On top of time savings and more streamlined processes, managers have access to detailed business expenses data, including categories, suppliers, days & times, amounts, and more. Using an effective platform collates all the relevant information for improved financial management.
Who are business credit cards for?
The lower cost of business credit cards makes them accessible to companies of any size, from microbusinesses to multinationals. In fact, the larger the workforce, the more sense it makes to link business credit cards to expense claims, for a detailed breakdown of business expenses.
Jenji Corporate Card
For a complete ecosystem that links a fully customizable business credit card with a personalised management interface, Jenji Pay automatically integrates into your Jenji platform, which integrates with any existing IT system.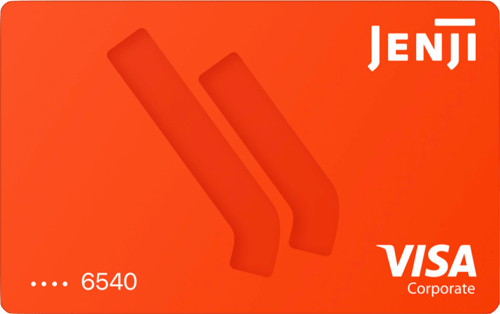 Flexible, easy to use and fast, this solution gives managers complete control of business expenses with secure transactions, real-time tracking, and an overview of all expenditures, including internationally. Transactions and receipts are transmitted immediately to the Jenji interface, with no delay.
Using the Visa network, the solution is accepted by all merchants. The three Jenji Pay cards can all be set up to suit your needs and are available both physically and virtually.
The Corporate Card (the Jenji business credit card) is a physical card that delivers increased productivity and autonomy. In addition, thanks to our mobile and Web App, you can track and control employee expenses in real-time, reducing the risk of fraud in particular.
As well as the Corporate Card, our Single-Use Virtual Card andVirtual Card secure any online purchases your employees make on a one-off or continuous basis.
Choose the right card for you and your business, tailored to your situation and your goals!
Sources:
[1] La carte affaires : mieux que les notes de frais ? - Generali.fr
[2] Carte bancaire professionnelle : caractéristiques et coût - Capital.fr