Looking for an easy and free way to calculate your mileage allowance? We have one for you.
What is mileage allowance?
If you are an employee and you need to use your personal vehicle in a professional capacity, the URSSAF (French Social Security organisation) specifies that your employer may reimburse a flat fee to you. Even if your employer doesn't reimburse mileage allowance, you can enter it as a real cost in your tax returns.
If you are not an employee but work as a freelance for instance, you can also deduct your travel expenses from your revenue using mileage allowance.
The vehicle can be a car or a motorcycle (for engine sizes above 50 cubic centimetres), or even a scooter (for "mopeds" or engine sizes below 50 cubic centimetres).
How does it work?
To make travel expenses management easier, the financial administration has created a tax chart that is updated yearly. It takes into account both the vehicle's horsepower (the "tax horsepower") and the distance covered.
This chart was established to include the vehicle's depreciation over time, repair and maintenance fees, tire expenses, fuel consumption and insurance costs.
How to calculate your mileage allowance easily and for free
Be it to get a proof for your employer or for tax purposes, there are several parameters that you must take into account to calculate your mileage allowance:
The number of kilometres covered from one place to another.
The number of kilometres covered in a year.
The tax horsepower of the vehicle with which you covered these kilometres.
Two approaches to calculating your mileage allowance
To calculate your mileage allowance, you can adopt two different approaches:
The "procrastinating" approach: at the end of the year/month, you calculate the kilometres you covered in bulk, and you lose half a day (or more!) doing it.
The "clever" approach: you use a free application that will allow you to enter the kilometres covered as you go, easily and efficiently, and you will then be able to spend your weekends doing something way more interesting!
Use Jenji to calculate your mileage allowance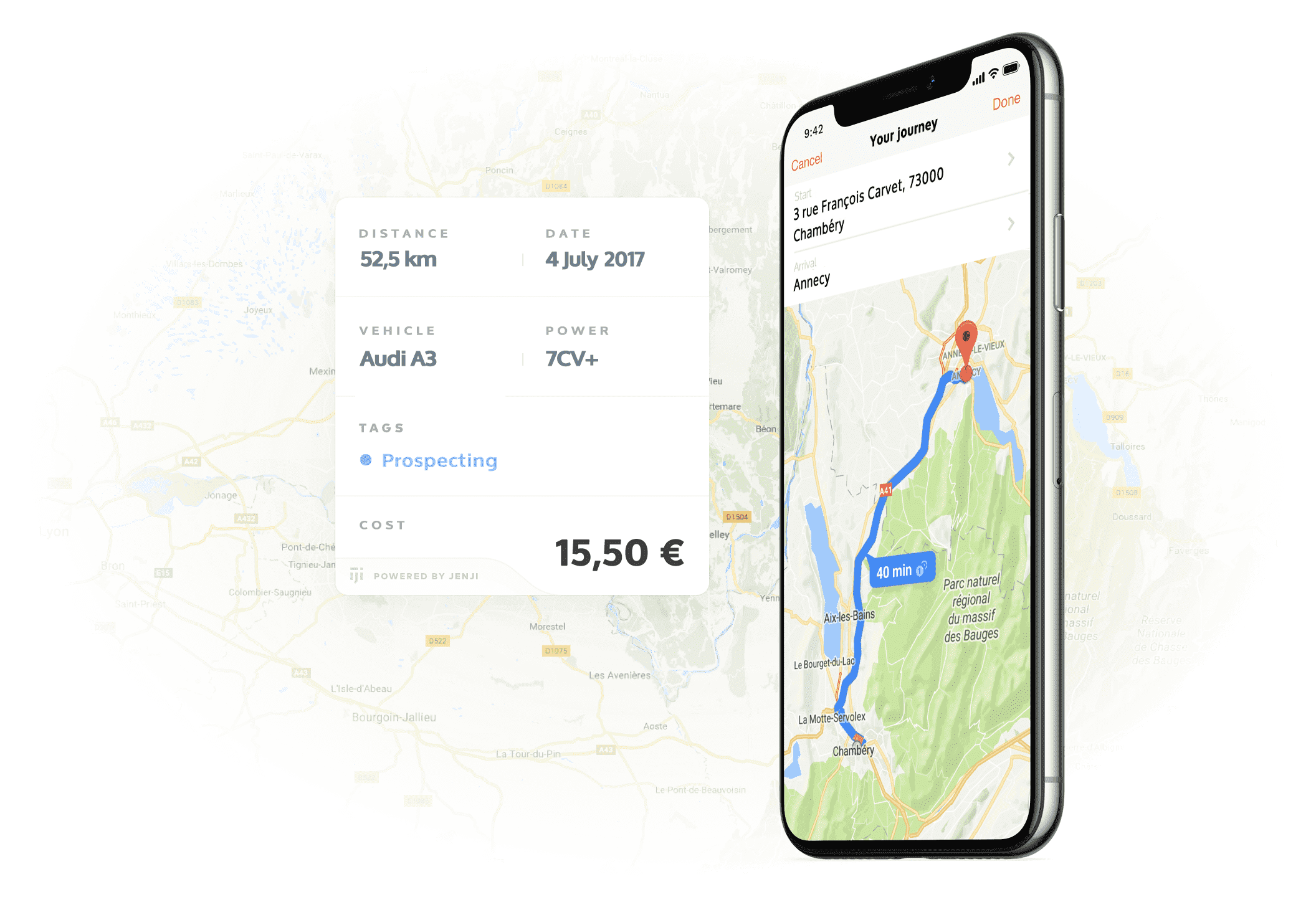 At Jenji, we prefer the "clever" approach! We had spent more than enough time reading expense accounts or calculating mileage allowance, so we decided to create a professional expense management application which allows you to do it easily!
If you choose the Solo Plan, calculating your mileage allowance as you go will be easy, fast and free. Once you have entered the configuration for your vehicle, you only need to enter your starting point and your destination for Jenji to calculate the kilometres covered and to match that distance with the tax horsepower chart.
If you use the Team or Enterprise Plan, it works the same way! And the distances will automatically be exported to your ERP thanks to the numerous existing integrations.